Do you accept Purchase Orders?
RelightDepot gladly accepts purchase orders from customers that have opened a credit account. We have partnered with two third-party agencies to provide extended payment terms for qualified customers:

Buy now and pay later with NET 30 terms through Resolve
Resolve offers hassle-free NET 30 terms with zero interest and no hidden fees. To apply,
complete this application
. Checking your eligibility won't affect your credit score and credit decisions are made very quickly. Our end-user customers have found this to be an excellent way to manage cash-flow, purchase without a credit card, and pay by invoice.
Pay-when-paid terms up to 120 days for contractors through Levelset
We have partnered with Levelset to give our contractor customers more time to pay and access to cash to win larger projects. If you have a signed estimate from your customer you can receive materials
and have up to 120 days to pay to better manage your cash-flow. Learn more and
apply online here
.
To place an order using your NET 30 account, add items to your cart as usual and select the
Paper and Electronic Check or NET 30 Terms with Resolve
option in the Payment section of the Secure Checkout. If you need to have the PO number show on the delivery bill of lading, please feel free to email the PO to
sales@relightdepot.com
.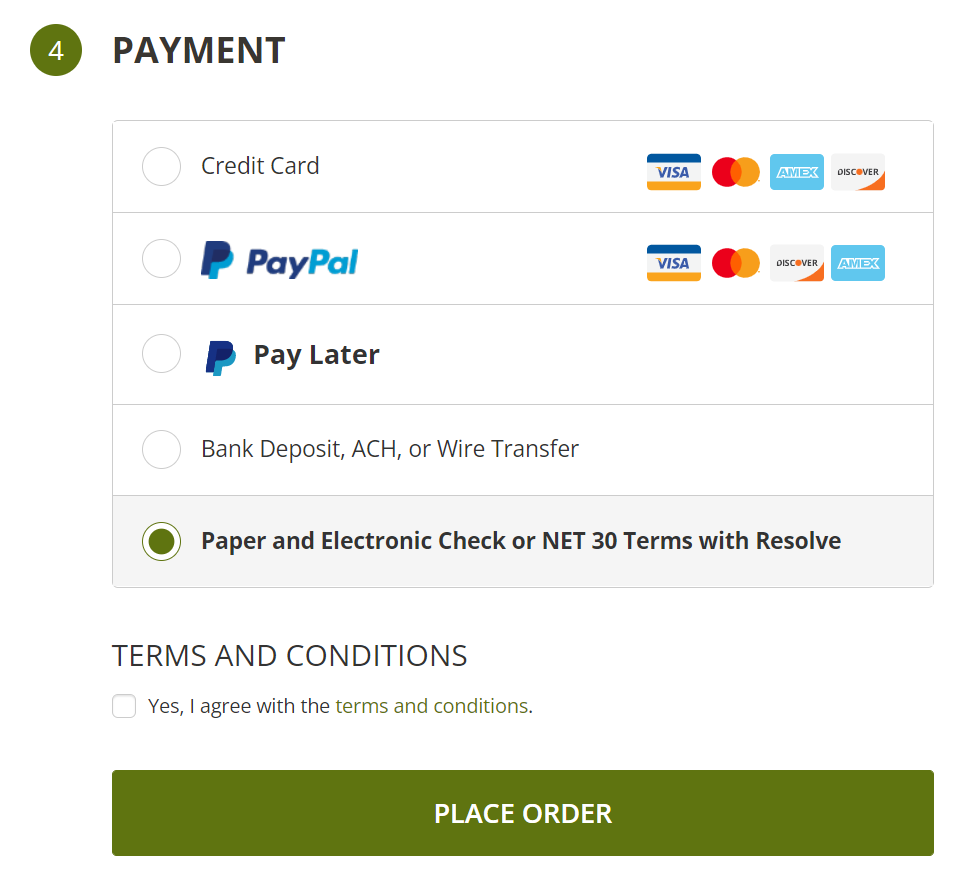 Related Articles

Can I open an account?

Yes, you can open a credit account to purchase items on terms. RelightDepot has partnered with two third-party payment providers to offer extended payment terms to qualified customers: Buy now and pay later with NET 30 terms through Resolve Resolve ...

What do the different Order Status messages mean?

At RelightDepot, we use various Order Status levels to indicate where in the process your order currently sits. This helps us organize orders and ensures that nothing falls through the cracks. You can use this guide to determine what the order ...

RelightDepot.com W-9 Form

Our customers routinely ask us for a W-9 form for their accounting records. You can find the RelightDepot W-9 form attached below.

What is your minimum order amount?

RelightDepot specializes in working with contractors and facility management companies to provide the lowest cost on high quality lighting fixtures and accessories. In order to keep our costs as low as possible and pass the savings on to our ...

How can I track my order?

To track your orders, visit your My Account page at https://relightdepot.com/customer/account/. Once logged in, you'll see your five most recent orders in the Recent Orders list on the Account Dashboard. If the order you're looking into is in that ...